Bleu Bohème is designed to create a feeling of France's past generations. It mixes the Bohemian and artistic free-spirited left bank of Paris with the roots and tradition of the rural areas.
Bleu Bohème is a neighborhood restaurant that serves accessible, affordable and comforting French cuisine. Our food is traditional, incorporating influences from all regions of France. Our menu reflects traditional and seasonal bistro food as well as country classics, prepared and served by a friendly staff.
Browse our extensive wine list, with more than 100 wines to choose from, spanning the sparkling and whites to the deeper Bordeauxs, Cabernet Sauvignons, Syrahs and more. Bleu Bohème's ambiance is warm, with décor inspired by our Bohemian personality.
Awards and Accolades
Restaurateur of the Year – California Restaurant Association 2011
Best French Restaurant – San Diego Magazine 2010, 2011, 2012, 2013, 2014, 2015, 2016, 2017, 2018
Best French Restaurant – California Restaurant Association 2011, 2012, 2013, 2016, 2018, 2019
Best French Restaurant – San Diego Reader 2020, 2021
Best French Cuisine – Ranch & Coast 2019
Diners French Choice Winner –  OpenTable 2010, 2011, 2012, 2013, 2014, 2015, 2016, 2017, 2018, 2019, 2020, 2021, 2022
Best Date Spot – San Diego Magazine 2016
Best Dates – DiscoverSD.com 2016

80 Delicious Bites in San Diego – WHERE San Diego Magazine 2016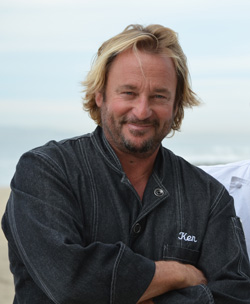 KEN IRVINE BIO
Ken Irvine is the principal of Irvine Hospitality Group, with more than twenty-eight years of experience in the hospitality industry. His company operates restaurants, consults and develops concepts for restaurants, hotels, nightclubs, wineries and retail outlets. To date Ken has helped develop over fifty venues.
A graduate of the prestigious Culinary Institute of America (Class of '88) in New York, Irvine was a student solicitor and class president.
In continuing his basic training in Europe he worked with Michelin starred Relais du Moujins in the South of France and in London, where at the age of twenty-six became one of the city's youngest Executive Chefs while working at the Plaza on Hyde Park Hotel.
Upon returning to the States, Irvine moved from the kitchen to the front of the house and was hired as the General Manager at various restaurants to complement his culinary experiences in order to assist him in the transition of becoming a restaurant owner.
4090 Adams Avenue, San Diego, CA 92116